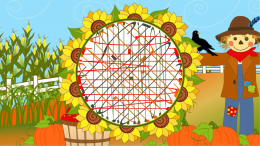 It seems everywhere you turn lately, something goes pumpkin spice. There are pumpkin spiced lattes, M&Ms, yogurt, cereal, granola, beer, cookies, bagels, Pop-Tarts, popcorn and more! Some feel this phenomenon has gone a bit too far, we wouldn't be surprised to start seeing pumpkin spiced toothpaste, breath mints, soda and maybe even tacos soon. Still others welcome it all with open arms. Either way, we decided we should hop in and provide you with a Pumpkin Spiced Snote!
To what do we owe this pumpkin spiced obsessed time of year? Perhaps these spices conjure up warmth and comfort. It's the time of year where we'll spend less time out of doors and more time in; we'll do less physical activity and more cocooning; and we'll eat less crispy salads and more warm soups. Change is in the air, literally, as we watch the trees transform from summer green to autumn orange, yellow and red. This is the time of year to invite friends over to watch football, hang out around the bonfire, and show off their best chili recipes in cook-offs.
If you are having any sort of a gathering or just want to invite a friend out for coffee (make that a pumpkin spice latte!), why not do so via Snote? To create a Snote you have four lines of text, just enough to say "Meet me at the Pumpkin Spice Café at 9am on Tuesday," just as an example. There are dozens of colors and animated themes to choose from so that your message will have the perfect backdrop for crafting a truly original invitation.
If you are invited over to someone's house for a gathering and are in need of a housewarming gift, consider bringing along a jar of pumpkin spice for the host or hostess. Just mix the following ingredients and place in a nice gift jar*:
1/3 cup ground cinnamon
1 Tbs ground ginger
1 Tbs ground nutmeg or mace
1 ½ tsp ground cloves
1 ½ tsp ground allspice
And don't forget the gift tag. Just download and print up the Snote we made for you!
*This recipe is from The Old Farmer's Almanac.