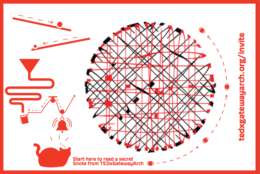 With less than a month to go, we are putting together all the final details for the upcoming Snotes showing at TEDxGatewayArch Catalyst. We have exhibited in the past, in fact, one year we acted as greeters and handed out specially made Snotes compliments to incoming attendees. This year, the TEDx Team asked us to help them create an upscale invitation to be sent to the movers and shakers of St. Louis. We were delighted to take part.
The invitation is delivered in a TEDx branded box, when the recipient opens the box the first item they see is a card with a TEDx Snote. In order to read their special message, which features the dates and location of the next TEDx event, they must go to a "secret" web page.
Also included in the invite is a set of dominoes with instructions on how they could win 2 VIP tickets to the event. The recipient is asked to set up the dominoes and knock them down. But doing so with flair is key to winning tickets; they are encouraged to use a lot of creativity! Even though only one will win the tickets, everyone who creates a video is a winner. The individual domino "featurettes" will be compiled to create a larger feature to be played at the event.
We are so excited to play such a big part in a day that showcases innovative thought leaders and the latest in Technology, Entertainment and Design!
Amongst the speakers and entertainment are:
Cbabai Bayoc, a modern day painter that has dedicated his brush strokes to images that uplift and inspire. More specifically, he portrays images of fathers and children to demonstrate the crucial need for their one-on-one relationship.
John O'Leary, who in 1987 was a curious nine-year-old boy. Playing with fire and gasoline, John created a massive explosion in his home and was burned on 100% of his body. He was given one percent chance to live. John will share how he traveled a difficult path to overcome unbelievable challenges and inspire all who know him.
Maya Warren, a recent Ph.D. graduate from the University of Wisconsin, whose passion for food science has inspired her to think outside the box. Recent winner of The Amazing Race 25, Maya competed with fellow food science graduate to take home the $1 million prize. With her reward, she is currently developing a food consulting business and a TV show showcasing frozen desserts from around the world.
Javier Mendoza, born in Virginia and raised in Spain, Javier Mendoza headed back to the States on a soccer scholarship to play for St. Louis University.  When an injury kept him from playing, he picked up the guitar and began writing music.  Soon after he signed a publishing deal with Warner/Chappell, writing for Enrique Iglesias, Ricky Martin, Emilio Estefan and others.  Approached by Bass/Schuler Entertainment to begin showcasing and an increase in demand to tour, Javier hit the road as a singer-songwriter and performer.
We would love to see all our Snotesters there, so be sure to get your tickets today as this event will sell out! The VIP Party is scheduled for October 29th at T-REX (911 Washington Ave, St. Louis, MO) from 5:30pm – 8pm. The Catalyst event is on November 7th at Harris-Stowe from 9am – 4:30pm. For more information on speakers check out the TEDxGatewayArch site. We'll see you at TEDx!