Snotes give you the opportunity to be as creative as you want to be!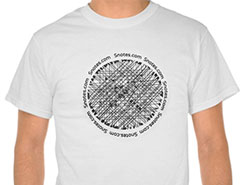 Snotes can be used in any craft project in which you want to instill a little mystery and the joy of discovery.
Just a few of the many uses for Snotes include:
Wedding invitations
Family crests
Scrapbooking
Embroidery
Spy club items
Holiday gift tags
Ornaments
Shirts and clothing items
Posters
Share you best ideas with our Facebook community!
Haven't tried making your first Snote? Try it now for free.