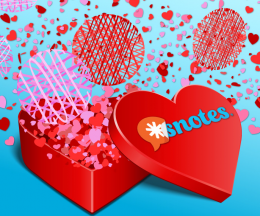 Even though the history of St. Valentine's Day and its patron saint are shrouded in mystery, what we do know is that it is a day to be celebrated with the one you love. Many will purchase buy chocolates and flowers and the like, but the most cherished and memorable part of the day may just be in the message you send to your Valentine.
We suggest you think outside the heart-shaped box and surprise your sweetheart heart-felt message delivered in a Snote. Your message can profess your undying love, or be flirty or just plain fun. If you are planning to make reservations at a special restaurant for a Valentine's Day feast, or perhaps you've decided to don a chef's hat and cook up a romantic dinner, send an invitation via Snote.
Our free accounts include one animated romantic theme for your February 14th love note. Premium account holders can choose from eight romantic themes – not to mention several font choices and shapes, as well as dozens of colors – let your creative side go wild.
Even though creating a Snote is easy, your Valentine will find your Snote message especially meaningful. First of all, Snotes are definitely unique; second, you will want to take some time to craft a message that truly speaks from your heart. Check out these the ideas we've found for you:
Also, be sure to take a peek at our Pinterest page, where we share all kinds of Valentine ideas for every taste.
Posted in
Snotes Valentine
,
Uncategorized
and tagged
@snotes4us
,
#snotes
,
creative
,
digital images
,
e-cards
,
ecards
,
holiday cards
,
holiday fun
,
holiday gifts
,
romantic cards
,
secret messages
,
valentine cards