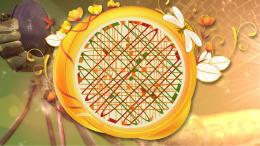 April showers bring May flowers, but with Snotes you can bring flowers any time of year. Our animations include flowers with butterflies, fairies, dragonflies and humming birds. Help your friends welcome in this lovely month of spring by sending them a Snote. Remind them they are a breath of fresh air, that they put a spring in your step and that being with them is like walking on sunshine.
April also brings Earth Day on April 22. As the stewards of this planet, we certainly need at least one day to tip our hat, take a bow and go outside to be with our home and thank the earth for providing us with everything we need to be happy, healthy and wise.
Snotes animation themes provide you with several ways to share your celebration of earth; a view of our lovely blue planet from space or several themes that feature natural scenes and earth's amazing animals. We also have animations depicting some of earth's popular places to visit; New York, London, China, Paris, Egypt, San Francisco and Snote's own hometown of St. Louis. Plus, since Snotes are created and can be delivered digitally, you will not need paper resources or transportation. Look at you – reducing your carbon footprint – way to go!
Here are some other ideas on how to celebrate Earth Day:
Step up your recycling program with these apps.
Plant a tree! Trees for the Earth is the theme for Earth Day 2016.
Vow to give up bottled water; fill and carry your own water with you.
Remember to turn off the lights when you leave a room.
Don't leave the faucet running when brushing teeth and fix leaky faucets.
Attend an Earth Day Fair.
Buy local as much as possible.
Choose to pay bills the paperless way.
Organize a community cleanup.
Just a few easy ways to go green and celebrate our Earth!