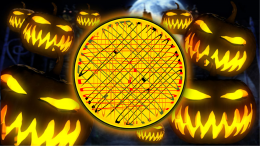 Little ghouls and goblins ready themselves for a night of trick or treating and candy gathering. Bigger ghouls and goblins may head out to a haunted house or two and even a bit of midnight mayhem. No matter one's age or planned activities, everyone welcomes a Halloween greeting! And it's especially meaningful when it comes from you.
Snotes offers everyone the opportunity to create and share a greeting that is perfect for any occasion. We have two Halloween themed animations; one that features scary pumpkin faces and another that features a Halloween favorite treat -candy corn. The only ingredient you need to add in are the words you want to share; be them a bit wicked, a tad jokester or a simple "Happy Halloween!"
It's easy to create a Snote and even easier to share via email, text or on social media sites. All you need do is choose your animation, add in four lines of text and send your Snote on its haunting way. The recipient is sure to appreciate your thinking of them on this most hallowed of holidays.
Black cat got your tongue? Check out any of these sites to find some perfectly poisonous prose for your Snote:
If you need any last minute costumes, decorating ideas, printable sheets, food or fun, be sure to check out our Celebrate Halloween Pinterest Board.
Now here is a Halloween challenge for you, Snotester. Do you know the answer to this joke? Check out our Facebook page for the answer!
Have a safe and Happy Halloween!