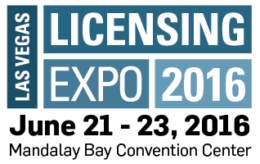 Snotes is setting the stage for our next appearance on the show floor of Licensing Expo 2016. Last year marked the beginning of an amazing journey for us. While at the Expo we met several key companies, one of which resulted in a partnership with Regiolatina, our exclusive agent for marketing Snotes products in the country of Mexico.
This year's Expo will take us back to Mandalay Bay Convention Center in Las Vegas. The show runs from June 21 – 23, 2016. Licensing is a significant avenue for Snotes and we have identified three key areas of focus, all of which we believe have major opportunities just waiting to unfold.
You can see several examples of what some of those opportunities are by visiting our website and clicking on our licensing opportunities for Business, Consumer Products and Education:
Businesses will be interested to learn how Snotes can help extend their corporate brand by adding a layer of interest in items as simple as a coupon, to website drivers, contests, in-store promotions and employee recognition awards.
In the Consumer Products world, there are endless possibilities for Snotes – including jewelry, pendants, home items, coloring books, games, accessories and even temporary tattoos. We are especially excited about Snotes on all things wedding – invitations, glassware and gift items. Our Snotes LoveKnots monograms represent a unique, one-of-a-kind opportunity for wedding planners and paper companies catering to the bride and groom.
For Education, Snotes has already experienced an influx of attention from educators involved in GAFE (Google Apps for Education) and Breakout EDU; two groups that champion the use of innovation to engage and challenge students. We are ready to demonstrate how Snotes can engage and inspire students and make learning a little more fun in the process.
Last year, Snotes spent time observing and learning about the licensing industry. This past year, we have positioned ourselves to take our Snotes licensing opportunities to the next level. During the three-day Expo, we have targeted several impressive companies and organizations and have arranged meetings where we'll get the opportunity to meet one-on-one to demonstrate how the power of Snotes can benefit their business. We also are expecting quite a crowd at our Snotes booth that highlights Snotes technology in a colorful and attention-getting way.
Stay tuned for more to come as we venture into the next exciting chapter for Snotes. We thank you for taking this journey with us!
Posted in
Snotes Licensing
and tagged
#Licensing2016
,
breakout edu
,
consumer products
,
education
,
gafe
,
licensing
,
personalize
,
secret messages
,
wedding ideas
,
wedding planners
,
wedding planning